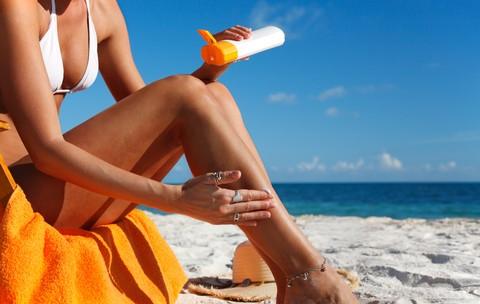 If you're a skin care junky, then you'll love a peak at what's on my beauty dresser. I have collected so many beauty products in the last few years while attending Esthetic conferences and trade shows. If you're looking for a tingly, feel good cleanser, then I got it! How about a refreshing toner? Want to try the closest thing to botox moisturizer? Oooo, how about a vegetabl e-based exfoliating scrub! Got acne? I have just the stuff to make that inflamed pimple disappear by the time you wake up!
Yes, I have it all except one thing…. sunscreen.
I am constantly being yelled out by fellow skin care professionals for not owning and/or applying sun screen regularly. Before you jump to judging me, let me plead my case
Sun damage is one of the key factors to premature aging and may increase the risk for skin cancer. Note… I said sun "damage".
I am a big believer of moderate daily sun exposure to boost my Vitamin D and enhance my mood. I am however against frequent visits to the tanning beds and laying hours on the beach under a cloudless sky. I'm not saying that you'll never find me relaxing on the beach, but it's only a few times a year. In addition to my moderate sun exposure, I always apply mineral makeup which naturally contains an SPF 15 or higher depending on the powder.
According to a new study, the number of skin cancer incidents continue to increase even though sun screen use remains popular. The study revealed that people who apply sun screen, tend to sun bathe much longer than individuals who don't.
Another study conducted by a British Biochemist also revealed that ingredients in sun screen may actually be causing more damage than protecting your skin. The study showed that some ingredients found in sun care products were reacting on the skin and causing free radical damage that could lead to cancer.
Soon after the release of this information, the Health Education Authority jumped to the accusation that the study was spreading confusing messages and stood by the importance of sunscreen.
So what's the answer?
Health Experts are still advocating that individuals cover up, use sunscreen and avoid excess sun exposure.
What's my answer….. be moderate, cover up, and get spray tanned! Make sure it's a good spray tan though, because an orange, Jersey shore skin tone is not that cute..